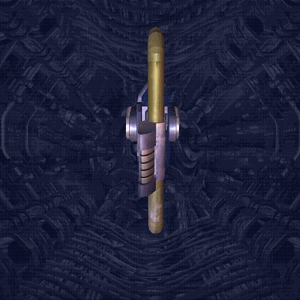 Report the observation is the name of the fourth mission the Reckoners' main base in the Desert Sector offers the player.
Requirements
Edit
End the mission before to get this mission offered.
Mission details and completion
Edit
Super thinks that the members of the Reckoners are of an inferior generation. That is why he does not take the information they try to give him seriously. But as the player belongs to the advanced generation, which is considered to be very promising by Super, the Reckoners' main base wants him to deliver the infopack to him. The information in the infopack is encrypted, so that only Super can read it. The base tells following about it briefly: 
"Our main idea was formed when you entered this world - a symbiot of the fifth generation. Your actions are more intelligent than the others' and mean a higher level of development. But still you act according to the system rules, because you are young and haven't yet realized the way to change it.
Unlike the Siniger. But it turned to be a problem for them. See, they wish to become full-fledged organisms, able to reproduce. But this wish limited their extreme capabilities and now they are merely the best warriors of the Range.
Super treats them accordingly, as an inferior generation, which does not see beyond their radar range. But if it their wish and your capabilities are combined, something extraordinary can happen. Super can create species, more advanced than the Creators. This will change his orders and the Range will be unnecessary. I don't know what happens next, but it is going to be better than the today's situation."
What the base just told is explained more detailed in the infopack. Bring it to Super's bunker and he will see that the Reckoners obviously are more capable than he thought. Anyway he won't hurry to introduce global changes.
Return to the Reckoners' main base to complete the mission.
Ways to fail the mission
Edit
There is no way to fail this mission.
Ad blocker interference detected!
Wikia is a free-to-use site that makes money from advertising. We have a modified experience for viewers using ad blockers

Wikia is not accessible if you've made further modifications. Remove the custom ad blocker rule(s) and the page will load as expected.