"If you want to go fast, go alone. If you want to go far, go together."
―African Proverb
About Polygon-4
Polygon-4 (acronym P4, Полигон in russian) is a remake of A.I.M. game series and is developed by a small group known as the Polygon-4 Team. The remake is planned to work on Windows, Mac and Linux operating systems. Polygon-4 will contain all three original games (A.I.M., A.I.M. 2. Clan Wars and A.I.M. Racing) with original, but enchanted stories and content. Currently, the game is under development and has unreleased status. The game should be available for free, so that everyone can download it.
Development
Polygon-4 is yet unfinished and under heavy development. Currently, the Sectors' terrain models are done and textures for the Rock Sector are applied. Currently the game is using old textures from the original A.I.M. series, but the final goal is to remaster them, so that they'll be in high definition and look similar to the original ones. Effects are in-work and first effects seen in-game will be impulse laser type-1 effects. Currently the P4 is using green and red spheres as projectiles.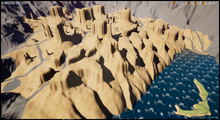 There will be new sectors to explore. Each one will have it's own side missions aswell as new gliders,weapons and maybe even new clans. The Underground Sector will become accessible in the first game too, with sightly bigger territory. At least one of the new sectors will have it's unique base type, comparable to the complexes in the Destroyed Sector.
There are plans for multiplayer, which should work similar to A.I.M. and A.I.M. Racing net games (dependinding on game), but this time it should be also possible to play the story mode together, even in A.I.M. 2. Clan Wars. The design of the server program is yet unknown (GUI or CMD type).
Each game will have its own theme taken from original games, but with sightly better quality and features. For example A.I.M. mod will have ability to mark mechminds without special commands or zoom in and out like on "hold" map, similar to original A.I.M. 2 Clan Wars.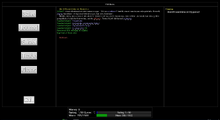 In the current build there are 8 foreign languages what will be supported- Русский, English, Deutsch, Français, Español, Eesti, Türkiye and Čeština. Fans' translations will be also accepted, checked, improved and then implemented into update.
Team
The development team is currently small and accept anyone who likes to help to speed up the progress. The team accepts people from all over the world. We would be happy to see you helping us!
Contacts
Skype:kevin01280?chat (Copy & paste on URL bar)
Downloads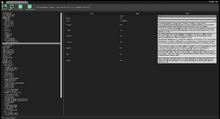 Here's a Dropbox link  and here's a updated Github link to download Polygon-4.