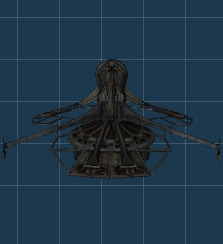 Rescuers were created to gather mechminds and other stuff lying for too long on the surface to deliver them to some base. When mechminds were getting rating for delivering their fallen brethren, there was not any real need in instituting a system of rescuers. But with the introduction of a new rating system, many mechminds stopped paying much attention to their brothers lying on the ground. The system's structure underwent serious upgrade.
Rescuers have a high durability but can still be destroyed to loot them. Keep in mind, though, that destroying a Rescuer decreases the combat rating by 100 points.
Rescue gliders are sometimes mentioned in A.I.M., but they didn't exist there.
Ad blocker interference detected!
Wikia is a free-to-use site that makes money from advertising. We have a modified experience for viewers using ad blockers

Wikia is not accessible if you've made further modifications. Remove the custom ad blocker rule(s) and the page will load as expected.