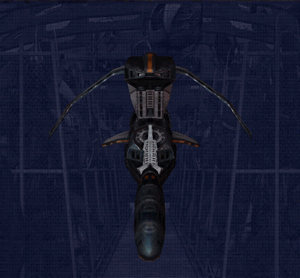 Scorpio is an attack glider of the 2nd standard.
This glider was taken up by the Nargoons right after going into batch production. It has 4 pylons for light weapons, which is ideal for the clan's battle tactics. A somewhat strange shape and its reinforced stabilization systems make this glider the most maneuverable in its class.
Glider specifications
Edit
Can be bought in the Nargoon test complex.
A.I.M. 2. Clan Wars
Edit
Type of hull: Special attacking
Weight / Capacity: 1400 / 5500 kg
Standard: 2
Durability: 800 units
Turn speed: 97 °/sec.
Price: 20000 energy crystals
This glider can be bought in the Underground Sector.
There was not the possibility to equip two light weapons at the same time in the first title of the game. Buying a second one would always replace the first one. The same problem applies to Demon Shadow.
Ad blocker interference detected!
Wikia is a free-to-use site that makes money from advertising. We have a modified experience for viewers using ad blockers

Wikia is not accessible if you've made further modifications. Remove the custom ad blocker rule(s) and the page will load as expected.